Bitdefender Install Cannot Deal With Remains Of Mcafee
Hi all,

I bought bitdefender total security instead of Mcafee for the fist time and installed it on the first 2 computers without a problem after uninstalling mcafee and running MCPR to clean the remains.

At the third one Mcaffe did ont want to uninstall completely and after running MCPR Bitdefender will not install.

It says: We have to delete previous antivirus programs. I click: go on, and....... nothing happens.

i have run MCPR multiple times. Each time it finds the same files and says it has removed them but still Bitdefender will not still install...

The helpdesk is a disaster. i have opened two tickets and still did not get a good solution and McAfee is also not very friendly ...

Any suggestions? (exept for buying an extra program to uninstall previous antivirus for €28,- ....)

Thanks

Gérard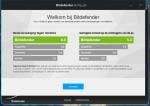 Comments
This discussion has been closed.