Bitdefender Premium Services Pop-up
I've just sent an email to Customer Service regarding this intrusive, extremely irritating and unwanted "offer". There is no apparent way to stop it or "opt out" of it..... This product is suppose to defend me against intrusive actions, not add to them!

Anyone else experiencing this and know how to turn it of??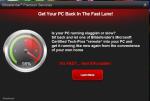 Comments