full disk access under Catalina

Running macOS 10.15.0 on a MacBook Pro (15-inch, 2019). I had done a clean install of macOS on this station so Bitdefender had not previously been installed. I installed it on Friday and, like Mojave, had to give Full Disk Access to the BDLDaemon.


"How to grant access to protected folders on macOS Mojave"

https://www.bitdefender.com/consumer/support/answer/14812/


However, I see two other Bitdefender items (BDCoreIssues and bdagentd) are showing up on the Full Disk Access list (see attached screenshot) but I have not given them this level of access yet because the support article mentioned above does not list them. Do these items also need this level of access under Catalina?


/Library/Bitdefender/AVP/common.bundle/BDCoreIssues


/Library/Bitdefender/Central/Agent/bdagentd


Also, does the "Antivirus for Mac" app require Full Disk Access? I noticed the support article for Bitdefender Endpoint Security requires granting access to both the BDLDaemon and the Endpoint Security for Mac app, but the support article for standard Antivirus does not list the app.


/Library/Bitdefender/AVP/Antivirus for Mac.app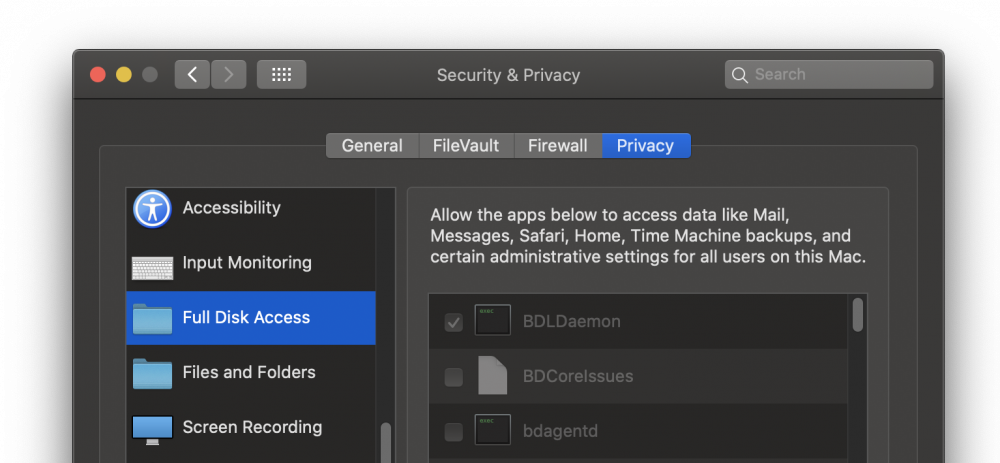 Comments