During my trip to Italy, I met one of our community members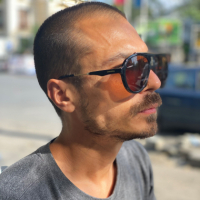 If you are traveling to Italy, make sure to visit Milan, the capital of Lombardy and the second most populous city in the Italian peninsula, after Rome. The city is known for its architectural landmarks such as the majestic Duomo Cathedral, the medieval Sforza Castle, the La Scala opera and the glamorous Galleria Vittorio Emanuele II. Milan sits on the third place in Europe in terms of economy and it also hosts Italy's stock exchange and various headquarters of national and international banks, being the wealthiest city in Italy. World famous for its fashion scene and cultural heritage, it offers an abundance of culinary delights at every corner.
I was sitting at a café admiring the beautiful and imposing Duomo Cathedral, looking forward to meet one of our community members for the first time. From the crowd of people buzzing in the piazza, I could see a familiar face coming towards me. It was Nunzio, who was kind enough to drop by and say hello, on his daily commute from work. I was very happy to finally meet him.
@Nunzio d'Abbruzzo is passionate about cybersecurity and he joined our community in 2019. Since then, he's been one of our most active contributors, helping fellow peers and sharing valuable product feedback along the way. He was using the previous Antivirus Free version and was very disappointed when he found out we had to discontinue it. But shortly afterwards, he was pleasantly surprised to learn that we launched a new improved version for Windows and got back on board with Bitdefender. Nunzio was eager to install, test and give us his personal view on the reborn product. His commitment to help us further develop and improve the free version always inspired me and since I was there, I also had some questions for him. His answers were honest and straightforward, just as I expected.
How would you compare the experience you have in the Bitdefender Community with other similar forums that you visit?
Nunzio: It is a completely different experience. You feel involved and part of the company, even if you have a free version.
If there is a security product or service that you could develop tomorrow, what would it be?
Nunzio: A powerful AD Blocker.
What UI improvements would you bring to the Bitdefender product, if any?
Nunzio: A button that you can add in the customization of the dashboard to directly access the quarantined files.
Based on your personal experience, what does Bitdefender lack?
Nunzio: An improvement in the impact on PC resources.
Define the best customer experience you've ever had with a service provider.
Nunzio: Best assistance from Amazon on defective products.
What motivates you to participate in our Community?
Nunzio: The product that is excellent and the desire to contribute to its improvement.
What do you think is missing from our Community?
Nunzio: A better order in the topics of discussion.
When was the moment you decided to use an antivirus and why Bitdefender?
Nunzio: When I discovered that Bitdefender was also effective as a free version.
Do you feel safer online when using an antivirus? If yes, what exactly gives you peace of mind?
Nunzio: Yes, I feel safer online when I have an antivirus. The web protection and the fact that whenever I download a file and / or run it, it is being checked.
As an Italian user, what do you think about Bitdefender's partnership with Ferrari?
Nunzio: I am very happy and enthusiastic!
I take this opportunity to express my appreciation for taking the time to share your insights and for being a trusted and valuable member of this community. Last but not least, thank you for trusting Bitdefender with the security of your devices. I hope we will always meet your expectations and that you will remain our faithful user for many years to come.
In the antivirus industry, success is a balance between the best protection available and a positive user experience. The key is to never stop exploring new and innovative ways of satisfying both needs, because safety and user friendliness go hand in hand.
Comments