Trojan.******.430611
Windows Vista SP2/BitDefender Internet Security 2009

Today's scan detected 1 threat that affected 1 object

Trojan.******.430611

Locatgion C/Users/My Name/AppData/Local/Micro...olders/Inbox/Shockwave/63396DA7 - 00000001.eml

I could not follow this path and find it.

BitDefender said disinfection failed. There was a drop down box with three options: Take No Action, Delete, Move To Quarantine.

I have no idea what to do so have just left the scan result window open and hope someone will answer me promptly.

I Googled this but nearly all results were in Japanese or German. I checked a couple of them out but found them unclear.

I am doing a scan now with Malwarebytes, and when it is finished will open my Spyware Doctor and scan with that. Would appreciate help, please!

I am uploading 2 screen shots.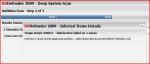 Comments