Facing Issues While Installing Anti Virus Plus
I got a Bitdefender antivirus plus today and tried installing it. The installation shows a screen with the scanning, downloading and installing progress bars.

The progress bar for scanning is at 1% for pass 1-2 hours. I am not sure how to proceed. Kindly help. Thank you.

PS: Pl find the current state's screen shot attached.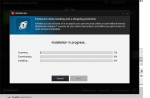 Comments