Limited Time Offer Popup For 2010
I have Windows 7 64 and Bitdefender Total Security 2011 installed. After rebooting my computer, I've started getting a popup 'Limited Time Offer' 'Expires Today' 'Buy One Year, Get 6 Months Free' for the 2010 version. It doesn't have a Taskbar, doesn't show up in the Program/Task Manager, and can't be dragged with the mouse.

Here's a screenshot of my Desktop with the popup.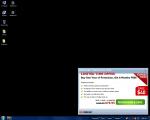 Obviously, the 'X' button is bugged as two overlapping buttons but does close it. The 'Renew Now & Save' button goes to BD's store for the 2011 version, even though the popup is for 2010. However, my subscription is still good for 93 days and so I shouldn't be getting this.

I couldn't find any setting anywhere in BD for expiration, newsletters, offers, etc. reminders. I believe it's legit but even so, why is it coming up and how do I stop it?
Comments
This discussion has been closed.